'DuncsWeb Xtreme' was an Exclusive Modded Community Minecraft Server designed at providing more to gameplay than a standard survival server. Such additions include Biomes, Food, Mobs, Magic and Blocks.

Getting Started On The Xtreme Wiki
You can see the Contents and Features of the Xtreme Server (We recommend bookmarking these) to take full advantage of all that is to offer at DuncsWeb Xtreme. As pages are added, we'll add them to the Content and Features, but those pages (and this homepage) are protected to prevent vandalism.

A Little about DuncsWeb
We've been around in Minecraft since February 2011 and have found that updates have been slow and rarely provide interesting things for players to see and do. We've stretched Minecraft as much as we can and have now moved to adding excellent mods provided by the community. We're as excited to build xtreme as you are to play it!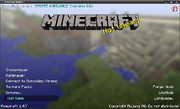 Xtreme and Xtreme++ Client
The Xtreme Client currently contains the main mods from the Mods Page
The Xtreme++ Client includes Optifine Lite, Reis Minimap and Inventory Tweaks
Get Involved
You can help us by adding content to the relevant Wiki Pages, the more we information we can gather, the better!
If you find something inaccurate or missing, edit or add the pages, but try to be as accurate as possible.
You earn achievements as you help add and edit content, and will be recognised in our community as a helper.
How to Join The Xtreme Server
Unfortunately, due to lack of players the Xtreme Server has been discontinued.
Thanks to all who participated in the modded minecraft server!
Latest Activity
Rules
Please respect everybody on this Wiki
Please don't assume pages are yours, wikis are an open book
Please don't vandalise pages, it wastes everyones time including yours
Please remove spam/edit inaccurate content or report where appropriate
Please don't copy work from other wikis
Please be open minded when you write. "The best way" may not be the best way!
Please keep this wiki in great condition for everyone
Top Contributors
See a list of the top Contributors on the Leaderboard
Community content is available under
CC-BY-SA
unless otherwise noted.